Feature Article: Faithful to God by Faith – Interview with Rev YU Wai Kan (Issue 482)
Interviewee: Rev. YU Wai Kan
He has been involved in student evangelism since his secondary school days and served in FES from 1968 to 1988 as the second General Secretary of FES. From 1988 to 2008, he served in the Hong Kong Church Renewal Movement.
---
How are you doing recently?
Since I retired at the end of 2008, initially I still preached, conducted Bible studies and led retreats. However, due to health reasons, I have gradually reduced my role in recent years. Now I only work as a consultant for the Hong Kong Church Renewal Movement (HKCRM) and Serving in Mission (SIMHK). After retirement, I continue to provide pastoral care for different people, such as the participants of the Mark Plan and Senior Pastor Training of HKCRM, church members, and graduates I have met over the years at FES. I call these "Friendship Pastoral Care".
Most of your ministry has been to people, how has the pandemic affected you?
The pandemic has kept me from seeing my children and family abroad for the past two years, and my elder brother and brother-in-law, as well as several close friends, have passed away during this period, which is certainly sad. But in the face of things beyond our control, "we don't even know what will happen tomorrow", we have to seek God and hold on to Him, and we have to stay close to Him and draw strength from Him constantly.
Precisely because so many things are beyond our control, we need to reflect on how God wants us to make the most of our remaining days. Because of my health, I no longer force myself to do everything and care for everyone. Instead, I just have to "go with the flow" and take the opportunity to actively care for people when I think of them, responding to the inspiration and guidance given by God.
In the face of changes, how do you think we should navigate ourselves?
When we reflect on the history of mankind, we are constantly being changed by all kinds of things. Changes are inevitable. As Rev CHAN Hay Him, the first General Secretary of FES, stressed, "The Gospel remains the same", but the strategies and methods should be adapted to the changing times and circumstances. In the 1960s, FES advocated four unchanging principles, 'Church-based, student-led, Bible-rooted, and mission-oriented'. Although some people were doubtful about activity-based evangelistic camps in those days, we presented the "Gospel in context" to our campers through this life experiential approach, so that they could understand and experience the Christian faith and commit themselves to follow Christ. This is the power of the Gospel and an evangelistic movement that has been renewed and deepened with the changing times.
In his article 'Equipping Yourself for 1997', the late Dr Hans Burki pointed out that "Christians tend to be rather superficial in their adaptation to cultural and political changes. Some people think that adaptation is a compromise. He believed more than anything else that 'the Word made flesh' is the best model. We need to enter the popular culture of the age ourselves in order to nurture the message of life."
Our past patterns of fellowship may need to change, and even though we don't know what lies ahead, God will be with us as we step out in faith. After I graduated in 1965, I taught in a public school and there were only four or five students in the fellowship at that time. Who would have thought then that they would become university professors, headmasters and pastors? We should never take lightly every single youngster that God has entrusted to you.
I remember in the early 70's, the Inter-School Christian Fellowship (ISCF) held a large gathering to reach out to all churches in Hong Kong and encourage all Christian teachers and students to participate in the campus evangelistic movement. On that occasion, we came into contact with Christians from 200 secondary schools, representing half of the secondary schools in Hong Kong. Through this, God has enabled the secondary school ministry to flourish and break the bottleneck of only reaching out to traditional prestigious schools. In the short term, we have been able to take the student evangelistic movement to various districts in Hong Kong Island, Kowloon and the New Territories, reaching out to more schools, developing district ministries, setting up secondary school student councils, etc. All these are the work of God Himself and all we have to do is to be faithful to the Lord.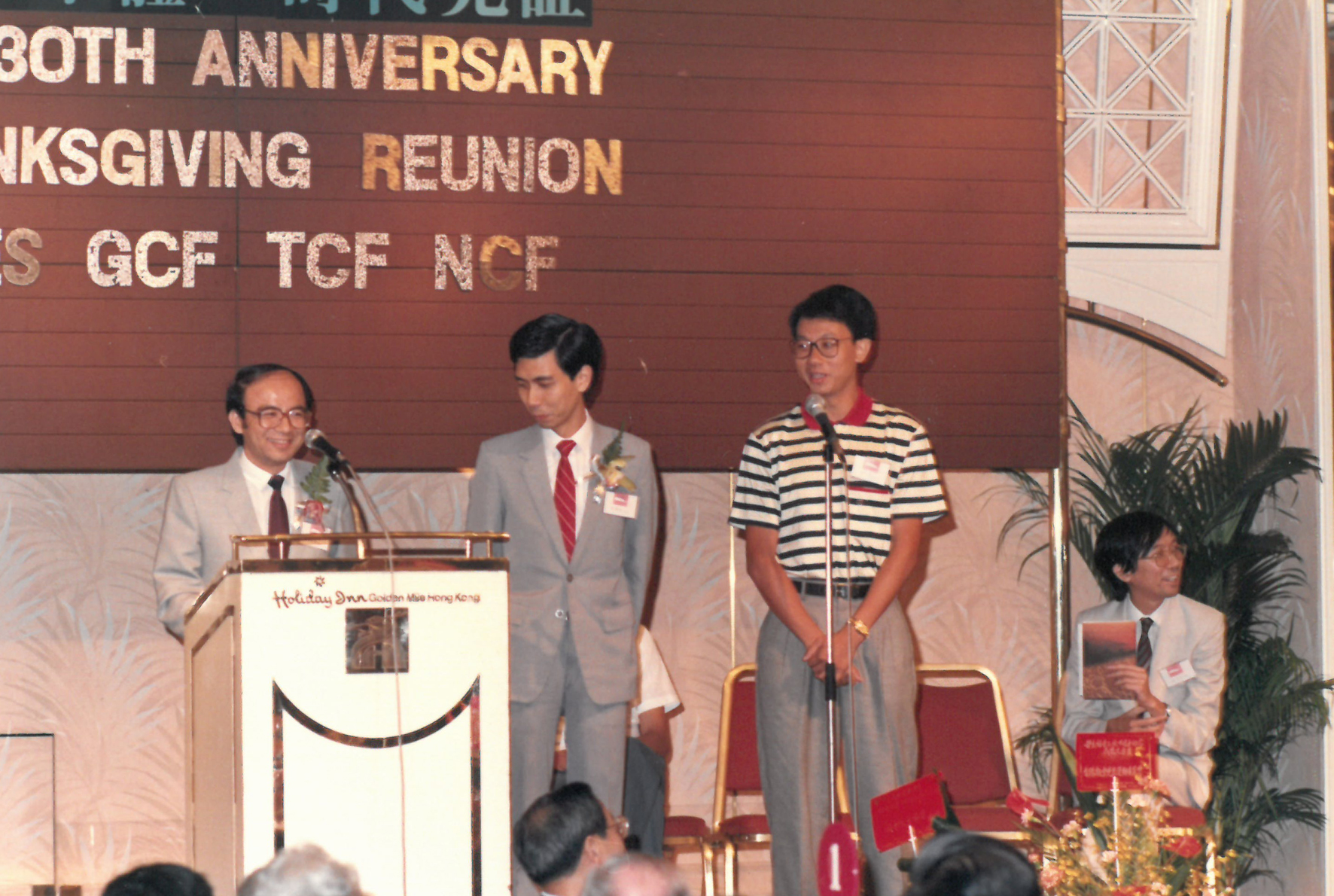 FES will soon be celebrating its 65th anniversary, what message or encouragement do you have for today's students, co-workers or graduates?
I have composed two lines, "Following the truth and beauty of Christ, thanksgiving always in faith, hope and love". The first half of the sentence is an encouragement to pursue our goals, and the second half is what we must continue to hold on to. In the darkest of circumstances and in the most disappointing of times, we are called upon to fulfil our Christian roles.
During the interview, Rev. YU mentioned that the word " friends" was a calling given to him by God (Jn 15:15). He has walked with students, graduates, pastors and missionaries over the years, befriending them, ministering to each other and influencing lives with lives. Although he mentioned many times that he was now "just going with the flow", behind this was greater faith in the Lord, focusing on God's leading and serving the lives God had entrusted to him.