Issue 482 Featured Article: Perseverance in the Crevice — Literature Ministry of FES
Maureen Tang, Associate General Secretary
maureen@fes.org.hk
---
PAUSE has a Pause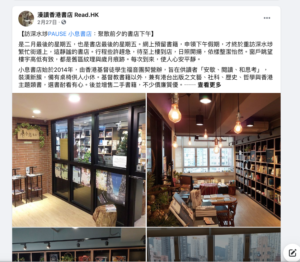 Because of the restructuring of staff resources, Pause bookstore has ceased to operate as a physical bookstore, which is much to be missed. As a local cultural bookstore for more than six years, the Pause has said goodbye for the time being, but it is good to see a number of independent bookstores emerging in the community, each with their own unique mission.
On the final Friday (26 February) before the farewell of Pause Bookshop, Facebook page owner of "Read and Travel HK Bookstores" visited the Pause and wrote "An Afternoon in a Bookshop on the Eve of Separation" . In this article, the historical mission and identity of the Pause are explained as follows:
"Started in 2014, Pause bookstore is run by the Fellowship of Evangelical Students (HK) and aims to provide readers with a place to rest, read and reflect. It is newly decorated with tables and chairs for relaxation. In addition to Christian books, there are also books on literature, social science, history, philosophy and Hong Kong themes produced by Hong Kong and Taiwan publishers. Later, second-hand books are also available, many of which are of good quality at low prices. ……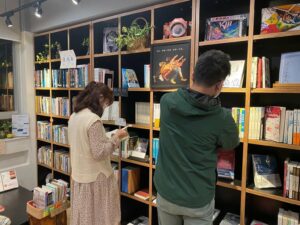 Joyous times are likely to fly by, just like in the old days a pause between classes was often too short. In recent years, many smart and elegant bookshops have opened up, yet the Pause bookstore remains its attractiveness. I can still remember some of those moments."
After the closure of the bookshop, the mission of "Reading Promotion " is undertaken solely by the Evangelical Reading Room. In addition to the usual distribution of FES Press books to Christian bookstores, we have also had the opportunity to participate in online book fairs organized by our peers over the past two years due to the pandemic, and have launched our own online shop (please visit https://literature.fes.org.hk/shop/ ) and have also advertised on social media platforms (FB: FB: evangelicalreadingroom、IG: evangelicalreadingroom).
In terms of physical exhibitions and sales, we continue to participate actively in the annual Christian Book Fair. We also provide bookstalls at schools and are grateful that we are invited by some schools each year to be their partner in promoting reading among their students.
Our participating theme of Christian Book Fair 2021 'Light and Salt'
This year's Christian Book Fair was held at the Tsim Sha Tsui Kai Fong Welfare Association from 21 to 27 October 2021. Our theme for the fair was "Light and Salt", which has captured two important publications of this year.
Our book Campus Lights: Students Living and Speaking for Jesus Around the World, published earlier this year, is about how students have risked their lives to share their faith. It is not only a book about the mission of students, but also aims to inspire leaders and encourage them to take risks for the Kingdom of God. Students and young people have always been catalysts for change in the world.
Stay Salt: The World Has Changed: Our Message Must Not, which was released in October, is the result of the accumulated experience of author Rebecca Manley Pippert. The book responds to three common struggles we face in evangelism: a sense of inability, a lack of understanding of the Bible and a lack of faith. The author explains the biblical theory of evangelism in simple and straightforward terms, and shows us how to integrate life into evangelism with her vivid personal experiences. Discussion questions are included at the end of the chapters for personal study or group discussion.
Perseverance in literature ministry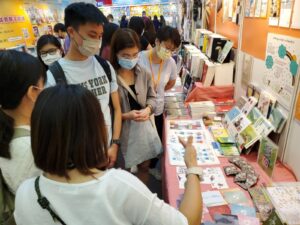 FES still persists in its work with the printed words. We believe that 'images cannot replace words', but we do explore how we can blend sound and image (multimedia) to encourage reading and make it more fun.
The written word offers space for thought and imagination that is wide open and free to explore. Although today that space may come with risk, certainly the Lord will keep it where He wills to use it.