Monthly Prayer Letter (August 2021)
26th August 2021
Dear companions of FES,
The changes that have taken place in Hong Kong over the past few months have been overwhelming. It has been heart-breaking to see one social organisation after another, from established trade unions with tens of thousands of members to civil society organisations with as few as a handful of members, announce their closure or dissolution. For decades, Hong Kong has been an ideal home for many people, but now it is a place of anxiety and fear, where the future is full of unknown risks, and where a peaceful home has become a home of torment. Perhaps it is a relief to leave this home. However, a person cannot live a meaningful life without any identity which is in connection with others and the land. The Jewish psychologist Viktor Frankl, in his famous book Man's Search for Meaning, argues that it is only having a meaning of life, not gaining pleasure, that enables us to survive in suffering and find the strength to take action from within.
How many people can live in peace and security in this city? Writer Hon Lai-chu reflects, "Some people do not have an external home, some people have lost their internal home. An external home is a place where a person can live… where they can keep their darkness inside… an internal home is a strong sense of self-respect and security." At the time of writing, I am still in a small French town accompanying my son to university. It is not easy for him to build an external home for himself in a dormitory and to make new friends, hoping that he will soon settle down. Many friends sent messages of concern and greetings to me. I smiled and replied that I was just going away for a short while to take a break and reflect on my feelings and relationship with my homeland. I will return home in early September.
I met an elderly woman last Sunday when I was visiting a thousand-year-old church by myself. Although we could not speak the same language, I understood that she needed my help. Then she thanked me and I responded with the simplest of French and a smile, which warmed me up. A way to sustain hope is to maintain a connection with strangers, with a smile, a little care, or a small gesture. Living a life of values and good deeds can still be ploughed deep into the cracked hard soil.
For believers, this inner strength comes from the Lord in our hearts. Jesus' prayer in the Garden of Gethsemane was full of human struggles, a great desire to remove His cup of suffering, a crisis of faith that only came when He understood whom to trust. Ultimately, He turned to the Father who sent Him, met His destiny, achieved salvation and experienced in person the triumph of rising from the dead. We, as followers, are both timid and brave, that is, a faithful perseverance, demonstrating strength in vulnerability, not giving in and not boasting.
"Absence of God, Lost in Mission" Christian Youth Conference will be held this Sunday, echoing with the tertiary believers' experience of various situations of "absent", and uniting them in a common search for a way forward in the midst of loss. We are thankful that the conference is already full and we hope that the Lord will speak to each and every student who attends. In addition, recognizing the importance of spiritual nurturing for young believers to stand firm in the midst of turbulence, our Inter-school team launches the "iDontDevotion" Programme in the new school year, which is available on the online platform on an ongoing basis. After more than a year of preparation, over 70 teachers, youth workers and tertiary students have collaborated to write more than 300 spiritual journals, in order to be relevant to the lives of secondary school students and to respond to the times. Please feel free to recommend this programme to any secondary school students you know.
I tend to be optimistic, believing that the future lies in young people and that they see the world differently. In spite of the uncertainty of the future, and even if there is no home to return to, will our young generation see more possibilities? If there is something we can do for young people, why should we give up? They are the ones to whom life belongs. "See, I am doing a new thing…… do you not perceive it? I am making a way in the wilderness and streams in the wasteland." (Isaiah 43:19)
Your brother,
Barry CHEUNG
General Secretary
---

Donation methods (Local)
Faster Payment System: (FPS ID: 1915727), transfer to "Fellowship of Evangelical Students (Hong Kong) Ltd.". Please fill in your donation items and donor number (if any) in the remarks or message column.
Crossed cheque: Please make it payable to "Fellowship of Evangelical Students (H.K.) Ltd.".
Direct deposit / E-banking: Hang Seng Bank 286-126024-002 / HSBC 108-074980-001
* Please send us the Donation Envelope, enclosing with cheque, bank-in slip or screenshot of successful FPS payment via mail or email (for bank-in-slip and FPS screenshot only).
* Donations over $100 are tax deductible in Hong Kong with our receipts.
Mailing Address: 11/F, Cheung Lee Commercial Building, No. 137-143 Cheung Sha Wan Road, Kowloon, Hong Kong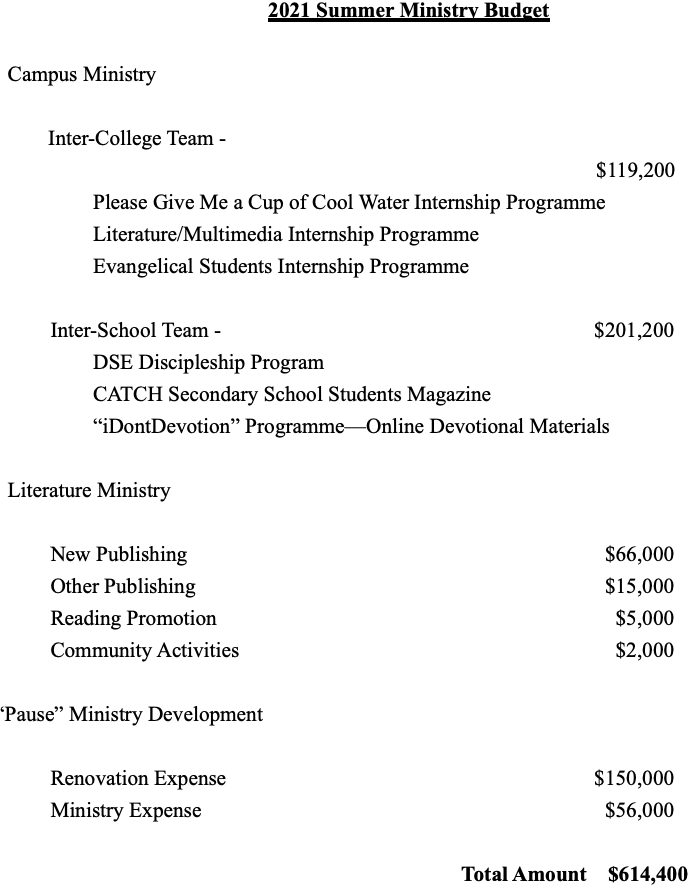 ---