Monthly Prayer Letter (July 2021)
26th July 2021
Dear companions of FES,
Hong Kong has experienced waves of emotional trauma. While the wounds caused by the social issues of the past have yet to be healed, now we have to face the pain of leaving our hometown to say goodbye, and start another page of unknown lives with the overwhelming emotions. In the meantime, we also see many people who remain and cherish this place, standing firm for what we believe in and bearing witness to the truth and facts, which is highly respectable! May God watch over and protect every one of us.
Apart from the sadness of farewell to our departing family members and friends in July, we also mourned the loss of Dr. Victoria Kwok, General Secretary of the Chinese Bible International, and Brother King Chan, co-worker from the Breakthrough. May God's grace and mercy be upon their families as they lost their loved ones.
I recently read a book by Professor Eric Ma. He suggests two practices for maintaining inner peace. The first is 'morning sketch', taking fifteen minutes each morning to write whatever comes out of our hearts. If we can do it regularly, it will have a healing effect. The next is 'focusing', finding a quiet time to be mindful of our own state of being, such as breathing, physical presence, or the sounds of our environment. When a thought arises, try to feel it, describe it, and place it at a comfortable distance. This will give the relatively autonomous 'I' and 'evil' a manageable distance.
Jesus said, "Do not worry about tomorrow…… Each day has enough trouble of its own." (Mt 6:34). Live our lives in the present, sense what we feel, hold on to what we believe, understand ourselves better, then we will be able to understand and help those around us on the same path.
Churches in Hong Kong have also been hit by the trend of migration. But more importantly, we need to see the opportunity and significance of the Gospel that is brought forth by the fact that Hong Kong people are scattered all over the world. (Acts 8:4) As every 'Hongkonger' today lives in a state of struggle and powerlessness, isn't there a greater need for the strength that comes from the Gospel? Isn't it an opportunity to proclaim that the Gospel brings true fulfilment to people's lives? The presence of a community of believers, wherever we are, is essential. On one hand, it is to connect believers to each other for pastoral care. On the other hand, it allows us to share the Gospel with our "new neighbours" who also have come from Hong Kong and to establish a new community of faith. Hope that our fellow church leaders who are still staying in Hong Kong may see this vision. If so, the congregation must be redefined, and a new mode of life for the Church must be experienced in the diversity of the diaspora.
The summer ministries of the FES Inter-college and Inter-school Teams are progressing well. Through various collaborative experiences and reflections on their faith, the students are preparing their lives and re-discovering the Lord's guidance in their way forward. Please pray for the IS Day Camp "Wholeness Project" led by our co-workers from 26 to 28 July. The three-day camp brings together young believers from Form 3 to 6 and allows them to reconnect with themselves, others and God through music, drama, crafts and community experiences.
After the summer, not only will there be changes in our staff team, but our ministries will also be adjusted and focused to better serve the younger generation in Hong Kong in these times. I hope you will join in partnership with us with all your heart! The Lord of the Good News is the healer of wounds and the deliverer of broken realities, enabling us, "even when there was no reason for hope, …… keep hoping." (Rom 4:18, NLT).
Your brother,
Barry CHEUNG
General Secretary
---

Donation methods (Local)
Faster Payment System: (FPS ID: 1915727), transfer to "Fellowship of Evangelical Students (Hong Kong) Ltd.". Please fill in your donation items and donor number (if any) in the remarks or message column.
Crossed cheque: Please make it payable to "Fellowship of Evangelical Students (H.K.) Ltd.".
Direct deposit / E-banking: Hang Seng Bank 286-126024-002 / HSBC 108-074980-001
* Please send us the Donation Envelope, enclosing with cheque, bank-in slip or screenshot of successful FPS payment via mail or email (for bank-in-slip and FPS screenshot only).
* Donations over $100 are tax deductible in Hong Kong with our receipts.
Mailing Address: 11/F, Cheung Lee Commercial Building, No. 137-143 Cheung Sha Wan Road, Kowloon, Hong Kong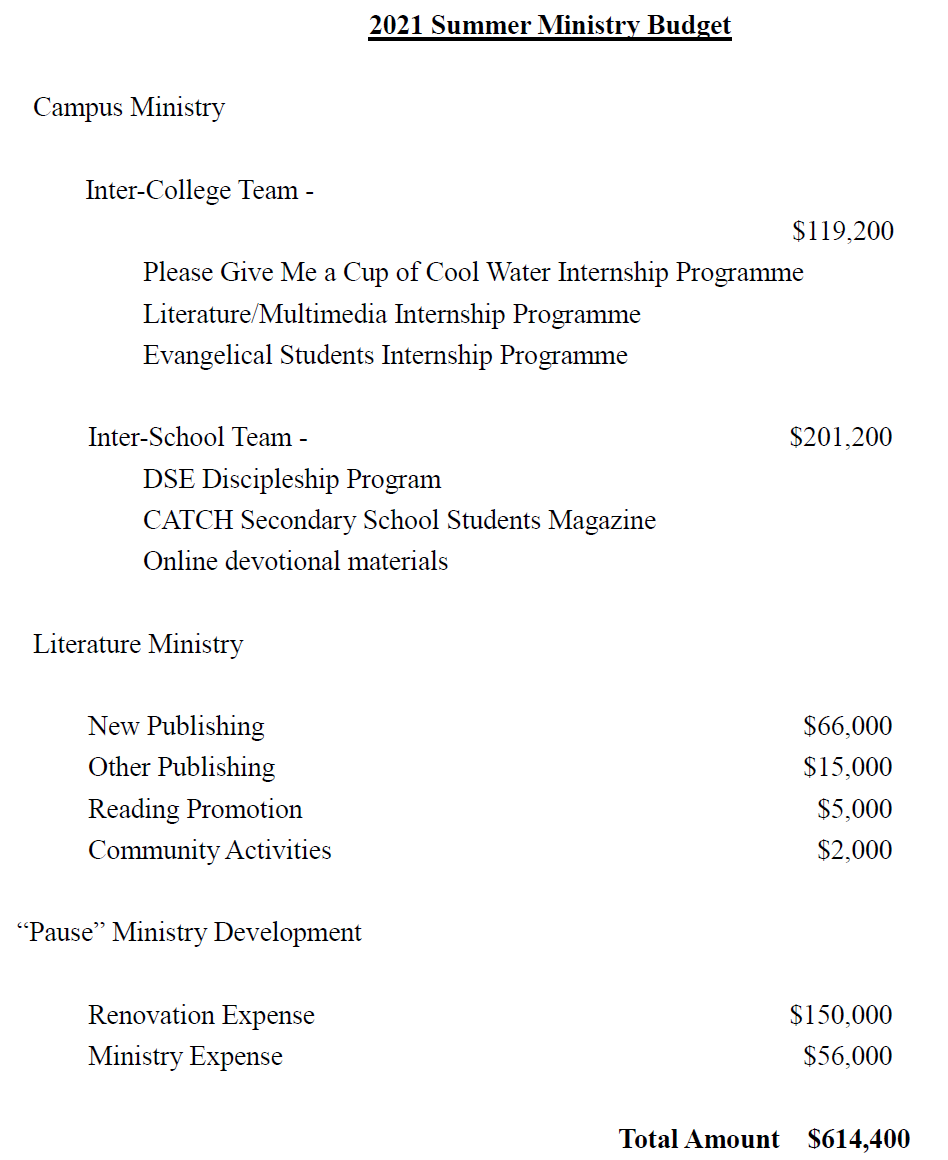 ---