Monthly Prayer Letter (June 2021)
24th June 2021
Dear companions of FES,
"The Post" movie tells the story of a cover-up of the truth about the Vietnam War by President Nixon in the "Pentagon Papers" case, citing a federal law that banned the publication of the papers in The New York Times. A classic quote from the film, "The only way to assert the right to publish is to publish", describes how fragile freedom of the press is. There is no protection over it but can only be diligently maintained. There are journalists in Hong Kong who publish and print newspapers as usual, to prove and cherish what they stand for and to fulfil what has become an impossible task. Though the path gets harder, there are always ways out, as long as there is perseverance and dedication to life. "Whatever your hand finds to do, do it with all your might" (Eccl. 9:10). Let's tell the world that there still is goodness in the darkness.
The recent rapid changes in society are saddening and suffocating. Our soul and mind are depleted to the point of exhaustion. The psalmist of the Old Testament was well aware of his situation, "My enemy pursues me, he crushes me to the ground; he makes me dwell in darkness like those long dead." (Ps. 143:3), and of his inner distress: "My spirit grows faint within me; my heart within me is dismayed." (Ps. 143:4). We need to acknowledge that we are living in such a situation and we cannot pretend to be strong. We need to pause for a while to contemplate and meditate on what the Lord has done and to pray to Him with outstretched hands (Ps. 143:5-6). May we discern, as the psalmist did, that the Lord's unfailing love includes the end of the enemy (Ps. 143:12), and that we seek only to do what pleases him (Ps. 143:10).
Summer ministries of the FES Inter-School and Inter-College teams have started. Through various collaborative experiences and faith reflections, the students have been able to organise their lives and rediscover their relationship with God. Please pray for the IS Day Camp "Wholeness Project" held from 26 to 28 July. Due to the pandemic, we organise the camp as a three-day day camp for youth believers from Form 3 to 6, where they can reconnect with themselves, others and God through music, drama, arts and crafts and community experiences, and achieve their true self in faith together. In addition, we welcome mentors to join the Integral Mission Summer Programme (IMSP) seminar with the college believers to explore and deepen the possibilities of "what else can be done" in different areas of practice.
As the physical operation of "Pause Bookshop" comes to an end, we are beginning to envisage how this place can become a shared collaborative space. Please pray that we will be able to link up with different partners and provide a suitable venue for retreat and exchange of ideas through thematic presentations and various creative and cultural activities that will engage the mind, body and soul of our companions. We hope that the beauty and spirituality infused in this small space will remind us that the practice of integral mission cannot ignore the state of mind and the spiritual needs of those who serve.
We hope that the transformation of "Pause" will open up new ministry models and increase the depth and breadth of FES's ministry. May the Lord grant us wisdom to work together to make appropriate discernment and decisions. We have budgeted a total of over HK$300,000 for this renovation project and human resources in the coming year. We ask for your prayers and tangible support for the development of our ministry.
Regardless of any circumstances, whether we are together or apart, sad or happy, may we all have shalom in our lives and live each day to the fullest, which is not only a vital responsibility, but also a necessary preparation for life, "for you are my God; may your good Spirit lead us on level ground." (Ps 143:10b)
Your brother,
Barry CHEUNG
General Secretary
---

Donation methods (Local)
Faster Payment System: (FPS ID: 1915727), transfer to "Fellowship of Evangelical Students (Hong Kong) Ltd.". Please fill in your donation items and donor number (if any) in the remarks or message column.
Crossed cheque: Please make it payable to "Fellowship of Evangelical Students (H.K.) Ltd.".
Direct deposit / E-banking: Hang Seng Bank 286-126024-002 / HSBC 108-074980-001
* Please send us the Donation Envelope, enclosing with cheque, bank-in slip or screenshot of successful FPS payment via mail or email (for bank-in-slip and FPS screenshot only).
* Donations over $100 are tax deductible in Hong Kong with our receipts.
Mailing Address: 11/F, Cheung Lee Commercial Building, No. 137-143 Cheung Sha Wan Road, Kowloon, Hong Kong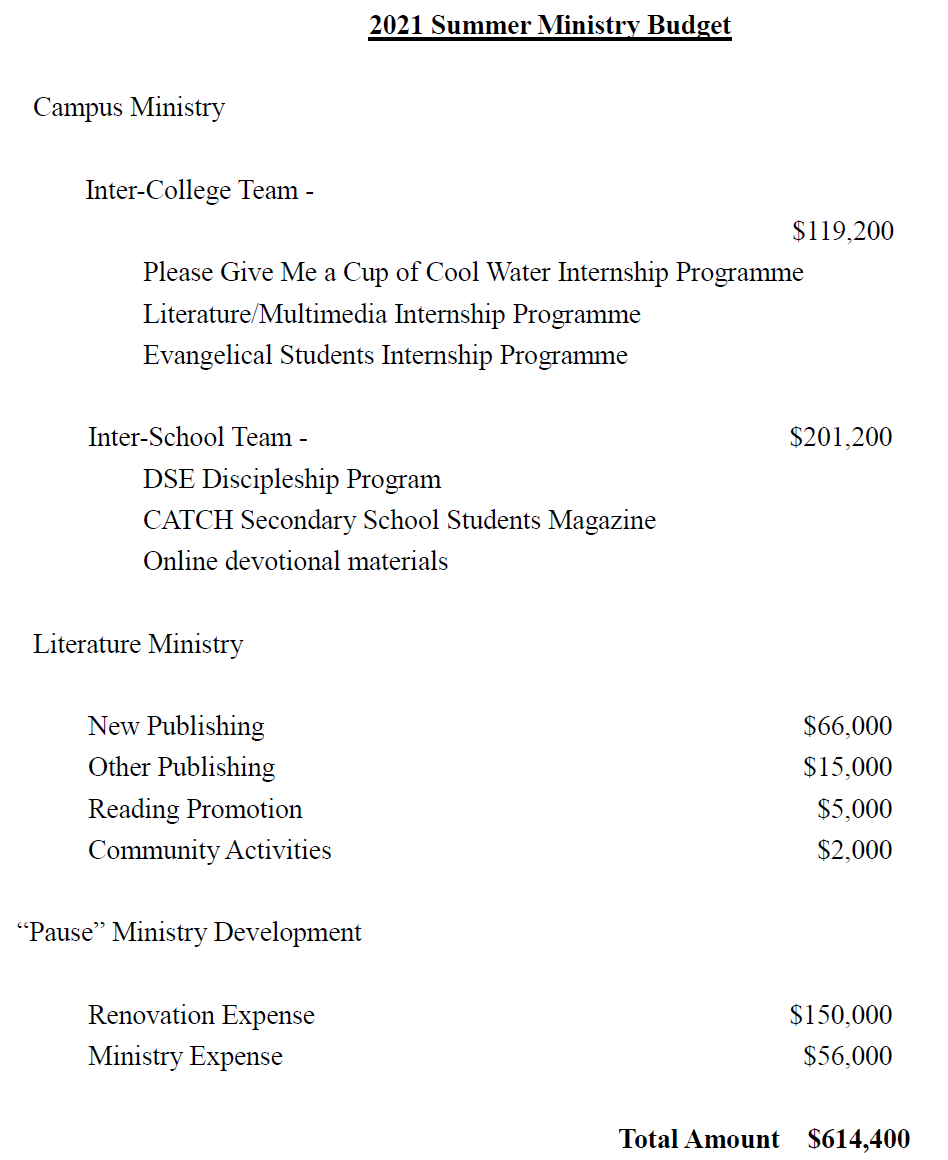 ---