Monthly Prayer Letter (May 2021)
27th May 2021
Dear companions of FES,
We noted that the inquest into the death of Marco Leung Ling-kit was held recently. The jury concluded that Mr. Leung died of misadventure, while the judge addressed that such inquest should be held as soon as possible to alleviate public doubts. Many Hong Kong people still remember him in his raincoat. Mr. Pasu Ng Kwai-lun who is an embalmer and body restorative artist, embraces the mission of "life and death education" and volunteers to help restore the faces of the deceased, hopefully to comfort the grieving parents and to heal some of the wounds of society. In the midst of oppressive silence, I believe in Hong Kong there are still many people who "strive on and keep faith", and do not let fear overshadow their beliefs. Likely we still have someone who insist on lighting candles on the night of June 4, and others bravely express social realities through art.
I spoke to an HKU student last week. She was excited to share with me her experience of being part of the Delta Movement, a creative movement of lay believers on an online social media platform, over the past six months. She started out with painting to express her inner feelings. Then a sister who specialises in artistic writing contacted her through this movement. They worked together to create graphic posts which resulted in a significant impact on social media platforms with many young people being comforted and encouraged by their artwork. We are thankful for the efforts of many youth believers to live out their faith during the pandemic, responding to the call of God and the needs of others through partnership without a 'central stage'. It also reminds the church of the need to make a paradigm shift in its future pastoral care, and with the wave of migration of believers. It is urgent for the church to revisit its position: where is the actual church?
Jesus said to his disciples, "Do not stop him, for whoever is not against you is for you." (Lk 9:50). Jesus reminded his disciples, and us, not to discourage a new generation from exploring, for his kingdom is far beyond our imagination. May we embrace the mission of the Church with a wider open heart and mind in order not to lose trust of the Lord, and not to deprive youth believers of space and opportunity to serve.
Please pray for the launching of FES summer ministry in which the "Lost & Found" camp and discipleship programme for F.6 DSE students will begin soon. May the students involved be beautifully equipped to be a supportive spiritual community. Please refer to the attached page of the summer ministry sharing of Inter-School Team. The Integral Mission Summer Programme (IMSP) of our Inter-College Team will also be launched in June. May the Lord bless the learning process and faith journey of more than 10 tertiary students, so that they can better understand the will of the Lord in their lives. The Lord watches over every wounded and doubtful life, all of which are highly precious in His sight.
As our team will undergo some changes over the summer, pray that the Lord will keep our departing co-workers in His peace, which passes understanding, and will keep the hearts and minds of all in Christ Jesus. May the peace of the Lord also lead you on your journey ahead.
Your brother,
Barry CHEUNG
General Secretary
---
Summer Ministry Sharing of the Inter-School Team
In turbulent times, still there are commitments we must uphold.
Due to the inconsistent schedule of classes in the past school year, our co-workers have had almost zero access to the schools. We are particularly concerned about these recent DSE students. How are they coping personally and spiritually after the difficult year they have been through? We have therefore chosen "Lost & Found" as the theme for this year's DSE Discipleship Programme, to enable students to renew their faith, build each other up in community and get ready for the journey ahead.
As for the annual joint schools' camp, we decide to hold a three-day day camp instead at the end of July, in an effort to gather students to rebuild their resilience and hope. Through alternative learning, we live out the integral essence of who we are in spite of constraints, and the resilience of the group can be gathered through collective energy.
Another project that is in its final stage is the production of new devotional materials for secondary school students. We aim to launch it on IG at the beginning of the school year in September, with six articles per week for a year, thus helping secondary school students to build a stable devotional life and to bring their faith to living.
Among the above activities, the former involves a camp and invitation of different guests to share, while the latter requires funding for manuscripts and illustrations. We sincerely invite you to be our partners through offering and interceding with us for this generation of secondary school students.
Your co-worker,
Mesona CHAN
Director of Inter-School Team
---
Donation methods (Local)
Faster Payment System: (FPS ID: 1915727), transfer to "Fellowship of Evangelical Students (Hong Kong) Ltd.". Please fill in your donation items and donor number (if any) in the remarks or message column.
Crossed cheque: Please make it payable to "Fellowship of Evangelical Students (H.K.) Ltd.".
Direct deposit / E-banking: Hang Seng Bank 286-126024-002 / HSBC 108-074980-001
* Please send us the Donation Envelope, enclosing with cheque, bank-in slip or screenshot of successful FPS payment via mail or email (for bank-in-slip and FPS screenshot only).
* Donations over $100 are tax deductible in Hong Kong with our receipts.
Mailing Address: 11/F, Cheung Lee Commercial Building, No. 137-143 Cheung Sha Wan Road, Kowloon, Hong Kong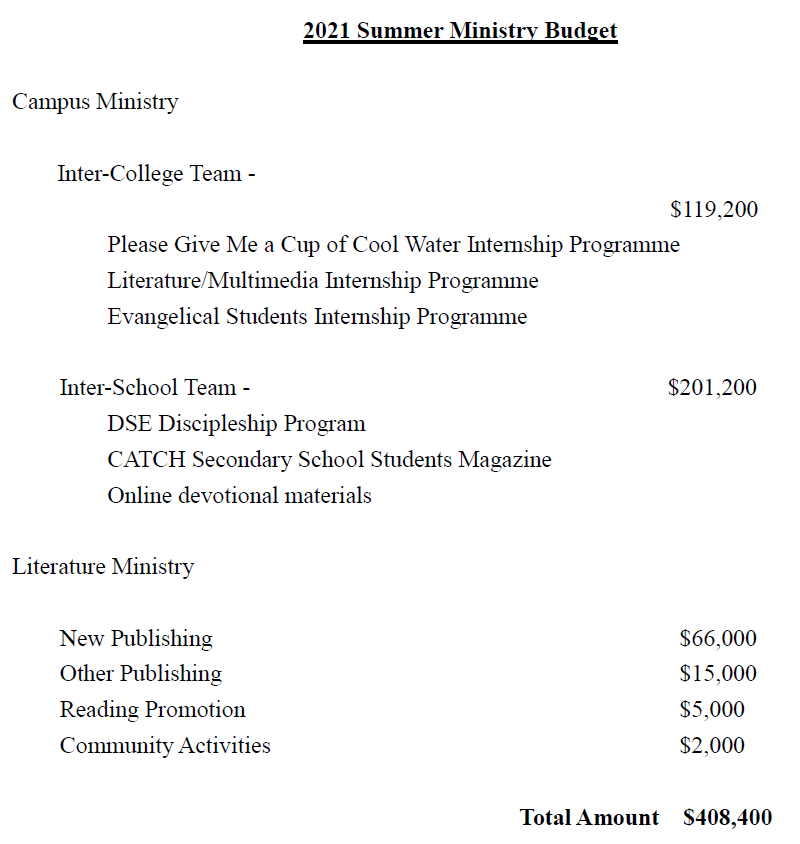 ---