Monthly Prayer Letter (April 2021)
22nd April 2021
Dear companions of FES,
A recent survey indicates that the stress level of DSE candidates this year is at a record high in its usual survey. Apart from the impact of the pandemic on their classes and learning arrangements, they are more worried and anxious about "the path ahead". I could identify with the young people who were facing their future education with a pessimistic or heavy heart. They are confused about their future as they witness the unprecedented impact on Hong Kong's education. FES has written a prayer particularly for this group of students seeking for God's guidance. May it also be your prayer:
<A prayer for our current DSE students>

O Lord, have mercy on our students and be with them: be pleased with the efforts they have made in spite of all their limitations.

Embrace the nervous, the troubled and the stressed; watch over their coming in and going out.

May the hope of Your presence be like the beginning of each morning, dispelling the fog of their inner turmoil. Guide and shine upon them in every examination morning. Warm and steady the mind, body and soul of each student.

Lead them walk this path one day at a time and enable them to bravely embark on their journey ahead.
Scholars stated that many people's worldview is influenced by significant events in their youth. Truly, the young people of Hong Kong today are a "weak" generation, vulnerable and powerless, unable to change the current situation in any way. Apart from schooling, family education is particularly important at this time – caring for the needs of individual children, building an environment of acceptance and trust, sharing moral values about all matters, and striving to nurture the development of a whole person.
The Apostle Paul said, "For Christ's sake, I delight in weaknesses, in insults, in hardships, in persecutions, in difficulties. For when I am weak, then I am strong." (2 Cor. 12:10). In a moment of challenge, Paul faced his limits, unable to demonstrate any capacity to improve his situation and incapable of being a source of further creativity. Yet Paul had the most precious experience of his own weakness, for that was the time when the Lord came into presence and he was able to drink again from this fountain of life. "If God is for us, who can be against us?" (Rom. 8:31).
When we planned this year's summer programme, we started by putting ourselves in the shoes of the students. We seek to approach the Lord from the depths of life through experience and action together — the journey from weakness to strength, from darkness to light. May the Lord use the DSE devotional journal Spiritual signal: On or Off compiled by our Inter-School Team, so that God's Word will be a companion and strength for the students. Our co-workers are also preparing for the subsequent DSE discipleship programme to consolidate experiences with the students and to meet new stages and challenges in their lives. Please pray for the arrangement for the work and staffing of our Inter-College Team (including young interns and theological students). Please refer to the attached vision sharing by William Lam, Acting Director of Inter-College Team. Our summer ministry really needs your support! Please donate in response if you are inspired. Thank you again for your continuous partnership!
Your brother,
Barry CHEUNG
General Secretary
---
Sharing of Summer Ministry in the Inter-College Team
In turbulent times, still there are commitments we must uphold.
In the midst of the recurring pandemic and the complex social situation, the Inter-College Team has continued to launch the Integral Mission Summer Programme (IMSP), including Evangelical Students Internship Programme which focuses on identifying mission and nurturing discipleship leaders, the Please Give Me a Cup of Cool Water which involves learning to serve among the disadvantaged, and the Literature / Multimedia Internship which explores the use of literature in mission.
Perhaps it is precisely in these complex and harsh times that we need to further pursue our mission, not as a kind of high-sounding rhetoric, but as a way of entering into the realities of today's context and experiencing the real suffering of life and the burdens placed on us by the present time. Only in this way will the mission meet the reality and the incarnate Christ be seen among people. Each of us may follow a different path in our mission, yet we are a community with a shared vision and responsibility. We therefore invite you to walk with our students, prayerfully and financially support each of them in their choices for their lives during the summer. They have chosen to pursue their mission in these difficult times. May each of us be part of their mission journey.
May God have mercy on us. Please keep our ministry in your prayers.
Your co-worker,
William LAM
Acting Director of Inter-College Team
---
Donation methods (Local)
Faster Payment System: (FPS ID: 1915727), transfer to "Fellowship of Evangelical Students (Hong Kong) Ltd.". Please fill in your donation items and donor number (if any) in the remarks or message column.
Crossed cheque: Please make it payable to "Fellowship of Evangelical Students (H.K.) Ltd.".
Direct deposit / E-banking: Hang Seng Bank 286-126024-002 / HSBC 108-074980-001
* Please send us the Donation Envelope, enclosing with cheque, bank-in slip or screenshot of successful FPS payment via mail or email (for bank-in-slip and FPS screenshot only).
* Donations over $100 are tax deductible in Hong Kong with our receipts.
Mailing Address: 11/F, Cheung Lee Commercial Building, No. 137-143 Cheung Sha Wan Road, Kowloon, Hong Kong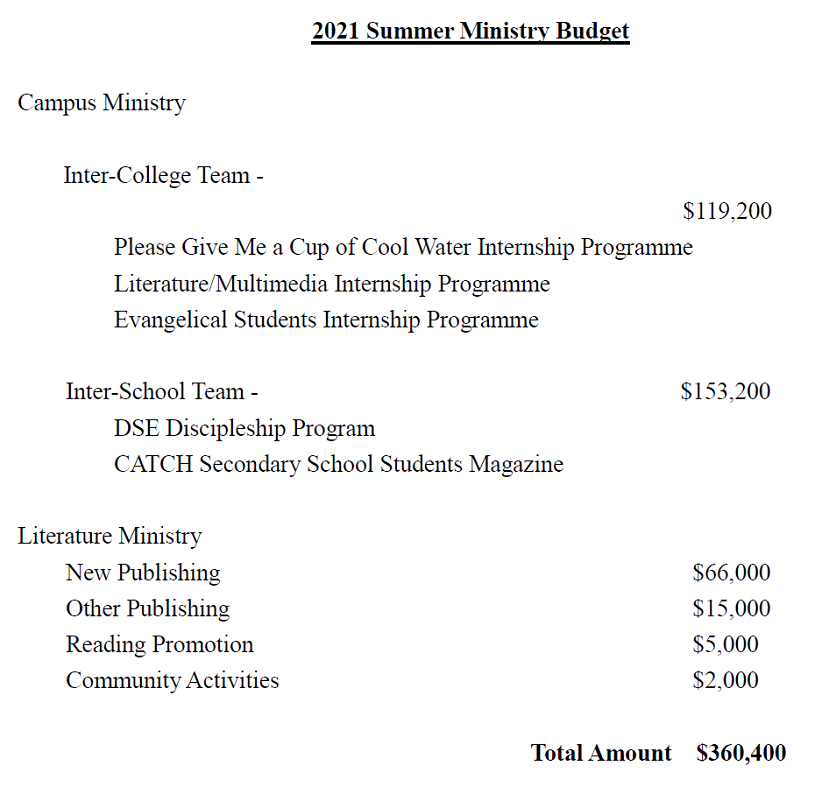 ---