Academic and Faith: I am still a student – Interview with Dr HO Wai Yip
Interviewee: Dr. HO Wai Yip, Associate Professor in the Department of Social Sciences at the Hong Kong Institute of Education, with a focus on Islamic Studies.
---
How did you get started on your academic journey?
Working as a teacher and researcher at the University, I am convinced that God has put me in this position and that I am only called and sent by Him. I participated in FES during my secondary school years and thought about studying theology. I finally enrolled for my PhD in 1999 when God revealed to me that it was Islamic Studies that He wanted me to focus on. At that time, many people thought that this subject was rather "obscure". My family didn't understand and even my dissertation advisor warned me that it was a subject that "wouldn't make a living". It was only after the 9/11 attacks that people started to pay attention to Islam.
How has faith shaped your belief that Islamic studies is the path you should follow?
When the former Yugoslavia collapsed in the early 1990s and there was ethnic conflict between Serbia and Bosnia, I was saddened to hear of the ethnic cleansing of Muslims and had a sense that sooner or later the problems between these two religious groups would come to Asia. I was aware of the need to be prepared to avoid a repeat of the tragedy in Asia. With prayerful waiting and encouragement from spiritual elders, I affirmed the importance of focusing on Islamic studies as a Christian.
How would you describe your role in it?
Islamic studies cover a vast and profound history of religion and civilisation. Like John the Baptist, I hope to do a piece of pioneering work in the academic field, removing obstacles from the road and making it a bit smoother. Recognizing that this vast field of study cannot be completed in one generation, but that someone has to start, I hope to share both negative and positive lessons learnt from my experiences for the benefit of future Christian scholars in Islamic studies and peaceful dialogue between Muslims and Christians.
How do you testify for the Lord in your discipline or field of study?
In Islamic studies, apart from Muslim scholars, there are also non-Muslims and, even believers in Jesus involved in Western academic circles. As Islam and Christianity are closely intertwined historically, and the Chinese believers are still in our beginning stages in this field, I believe it is the Lord's good will to send me to teach and study in this field. I have attempted to publish articles in academic books and journals, as well as writing commentaries in newspapers and magazines on what I have learned and observed, aiming to help the public understand the changes in the Islamic world and the situation in the Middle East.
Nowadays, university professors need to pursue financial support. How do you manage to do so whilst testifying for the Lord?
The need for funding for academic research is undeniable and is even an important condition for the renewal of contracts. However, for me personally, the most important thing is to pick up on my original aspiration . As the Lord moved me to study in the field of Islamic studies and to bear witness among Muslim scholars, I should not put the cart before the horse by chasing research funds. With the current emphasis on research, I keep trying to work out how to balance research and teaching at the same time, how to use research findings to inspire students in teaching, and how teaching and research can complement each other. For example, I took the students on field trips and shared with them my experiences on how to discover historical archives, hoping to plant the seeds in the minds of the new generation to take their studies seriously in the future. In fact, I have learnt from my students as well. Some of the Islamic studies issues have been inspired by questions from young students. Although I am a teacher, I am still a curious student. In academic context I walk with students and in Christ we learn together from Him.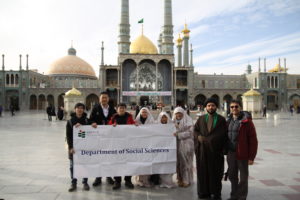 This path is the way God has called Dr HO Wai Yip. Dr Ho used his own experience to encourage us to step into His calling. In the interview, he repeatedly mentioned that he was just an ordinary man, still learning and trying to figure out his way. Indeed, God uses every unique and ordinary person to fulfil His extraordinary purpose. The point is that we must commit ourselves to God and not limit ourselves to Him. Then, God will reveal to us how we can be a blessing to others.
---