Campus Frontline Special: Sharing by Interns of the Integral Mission Summer Programme
Eddy LAM, Assistant Staff, Inter-College Team
eddy@fes.org.hk
---
As COVID-19 pandemic recurs, Hong Kong community and rest of the world are in a state of turmoil, but the Lord keeps calling on college students to seek their faith and live it out. Let us take a look at what students have shared about their summer internship programmes……
Who do you say that I am……?
Evangelical Students Internship Programme (2nd Year)


In the Evangelical Students Internship Programme this year, I had the privilege to take part as an intern in the Inter-School Team, where I was involved in the pastoral care of secondary school students. Although the planned schedules were constantly changing due to the pandemic, thankfully I was able to walk with the secondary school students during this short summer break. It was so good. Whether I was serving in the Inter-School DSE Summer Discipleship Programme or taking part in the internship training, the philosophy of "student-led" ministry was deeply ingrained in my mind. At the end of the internship, I was convinced that the role of staff co-workers for today's generation is no longer to emphasize on personal guidance or one-way teaching, but rather a kind of "letting go" in life – staying close to the pulse of society with young people, exploring God's call in this generation and how to be His disciple.

During our summer discipleship, we studied the book of Ezekiel, read different theological books, went on outreach visits, did devotions etc. In fact, we all ended up asking, "What really is gospel?" Is that simply a personal decision? Is it a leaflet? How can an "integral mission" bring salvation to the whole society? I was raised in a Pentecostal church and thought that the core of my faith would always be my personal relationship with God, but it was during my internship at FES that I tasted the fullness of my faith. In my search for the roots of my own theology and faith, I have come to realize that faith is not merely a matter of personal comfort, but a matter of "down-to-earth" dialogue with every being here and now. At the end of the day, this question remains: Who is Christ? What is Christ like to the disciples of the past and the believers of today?

Mr. Lam, year 3 student from Education University of Hong Kong

Interns of the Media Team assisted in the production of an introductory video on "Affectionate Listening with Psalms" Listening Card 2.0.
The Spirit of The Lord is on me. He has chosen me to tell good news to the poor……
Please give me a cup of cool water – Poor-caring Internship Program 2020


The COVID-19 has caused a sharp decline in the number of tourists. Thus, Wontonmeen, which was used to be as a homestay, simply cooperate with the Association and turn itself into a short-term co-residence unit. When I was cleaning the homestay, I used steamer to steam small items to eliminate lice. The neighbourhoods have only two to three pieces of clothing for each season, and perhaps just a coat as a symbolic winter garment. Those bunk beds designed for tourists become theirs. They were born and raised in this city, but they also act as travellers carrying their backpacks and moving from place to place. Even this place is not their "home". Maybe they do not have any idea what "home" is supposed to look like either. I consider Hong Kong my "home", provided I have a stable accommodation here. How about those Hong Kong people who are enduring difficulty and distress? If Hong Kong is not their "home", where can they claim it as their "home"?

Miss Tsui, year 1 student from Chinese University of Hong Kong
Internship at the Christian Concern for the Homeless Association

Miss Tsui cleaned the homestay with a steamer to kill lice.

During my "Cool Water" Internship, I served in the Confederation of Trade Unions (CTU). Although the internship programme only lasted for one-short-month, and because of COVID-19 many practical work opportunities were cancelled, but gratefully there was more time for reflection, reading, and devotions than I could have imagined, which allowed me to learn more about myself, my community, and even my faith.

I still remember that when I started my internship, I wanted to enter people's lives and have a deeper understanding of the society and the grassroots. At that time, I did not have much concept and understanding of the social system and the daily evils faced by the poor. Through detailed presentations and sharing by the CTU's colleagues and supervisor, and telephone conversations with workers during my internship, I gained a more solid understanding and analysis of the evils of the system, and began to feel the sorrow of the poor in facing the evils of daily life. I think these feelings and learning were starting point for me on my social concern's journey which should be connected to my faith. I think as a Christian, especially as a university student, we shall not underestimate our own ability, but reflect on how our faith interprets the social context and the plight of the poor, and then bring about some changes. I think this is also a question that I will be constantly reflecting on in the future.

Miss Lee, year 2 student from Hong Kong Shue Yan University
Internship at the Confederation of Trade Unions (CTU)

Beginning to feel the sorrow of the poor in facing the evils of daily life.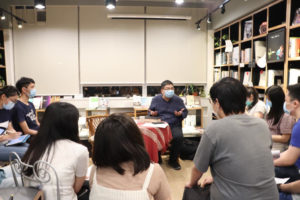 Teaching them to obey all that I have commanded you……
Literature / Multimedia Internship Programme


During these two months, I participated in the literature internship and became an editorial intern at the Chinese Christian Literature Council. In the course of my work, I have found that editing is not as simple as I had thought. Apart from proofreading, editorial work also takes different forms, in particular co-operation among departments and organizations, and discussions on the possibility of foreign books being published in Hong Kong.

In recent years, people, especially young ones, have been reading less and less. The prevalence of electronic media and the ease of use by everyone has led to the decline of the paper book industry, which is becoming more and more unpopular. Christian publication faces an even greater challenge because Christians account for only 5% of Hong Kong's population. With fewer people reading, obviously sales of Christian-published books have dropped dramatically. Therefore, the staff of Christian publishers have taken great efforts to increase Christian awareness of these publishers through various activities, as well as through organizing events with different organizations to promote the publishers' new books. This part of the work also falls into the editor's hands.

I noticed that even though these staff have been working in the publishing industry for many years, they are still full of passion and serious about their work. They are always thinking about new opportunities and possibilities for the ministry, hoping that the knowledge will be passed on to the readers through their books, and that the ideas and thoughts of the publishers will be passed on to them.

Miss Mak, year 4 student of Hong Kong Shue Yan University
Internship at the Chinese Christian Literature Council (CCLC)

A picture of Miss Mak taken at the bookstore of CCLC
The Lord keeps calling generation after generation of disciples to be His witnesses in a changing world. May we be able to withstand challenges of the times so that our students will continue to have internship opportunities which deepen their faith.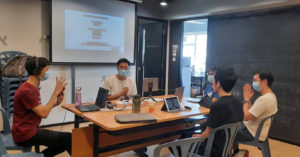 ---