Campus Frontline: The end is approaching, where do we go from here?
Elisa WAN, Assistant Editor
yungyan@fes.org.hk
---
Amidst the anti-extradition protests, COVID-19 and the impending National Security Law, the young generation in Hong Kong describes the current situation as a kind "endgame". The opening ceremony of Mission Conference 2020 with the theme of "Disciples' Road to the End", cum the youth forum was held on June 22. Four young people shared their views regarding the end times, Hong Kong, the faith-based community and so on. Together we reflected on how we should get along in these turbulent times.
Everyday Life in the End Times
From "The Rise of the Kingdom of Heaven" in 2012, "Standing at the Breach of History" in 2016, and "Disciples' Road to the End" held this year, each Mission Camp theme represents a feeling or depiction of the young people's perception of that era during those four to five years. This year, the event had been changed to a Mission Conference, but it still allowed young people to explore their mission in the city. Students were responsible for organizing the conference. During the opening ceremony, the organizers explained the choice of theme "the End" as a way of expressing the experience of uncertainty resonated with them in these deteriorating times. They have undergone unprecedented changes, their humanity has been deeply humiliated, and everything has fallen apart one after the other. They have entered the state of "Bare Life", which refers to people being nakedly exposed to power and being slaughtered; and those who kill are not considered as committing a crime.
These end times do not happen overnight, but over a period of time. The situation will only go downhill, and the fears and anxieties will get worse by the day. Our bottom line may be getting lower and lower: "It is acceptable to change from a limited freedom of speech to having books to read, then to having TV and newspapers to watch, then to having a job and three meals, and finally to being a soldier or even dying."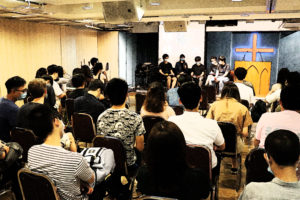 Getting Around in the End Times
Living in the end times, young people who shared at the forum pointed out that we need to stay alert and stand firm for what we believe in. To "protest" in our daily life as usual, to live what others see as an alternative life, to set and achieve goals of different levels, and at the same time to fix our eyes upon God and listen to the Word. Our responses to the current situation should be coherent with our faith. We must live out our faith in deeds. In our daily lives, we still need to persist in seeking truth (seeing things as they are and not living in our own comfort zone), goodness (doing good in facing our weaknesses at critical times), and beauty (appreciating the goodness of nature and humanity to the fullest).
Keeping Unity in the End Times
It may not be a way for young people to turn the tide and change the situation, but it is a spontaneous act of dialogue between their current situation and their faith. However, everyone's actions can be different. When it comes to unity, the young people pointed out that we need to acknowledge that each of us is not united by nature, but by grace we are able to come together and appreciate each other's efforts, without having to agree with each other. Christians can blossom in a variety of ways, "each with a different spectrum of light… into the world, radiating light in different corners."
True faith is not based on possibility, but on knowing that human is limited and trusting that God is in reign. May we as a community be prepared to enter the end times as prophets used by God to "proclaim His judgment and mercy, to do justice in society, and to enter into a world of suffering—the trials of our time will not allow us to live in complacency."1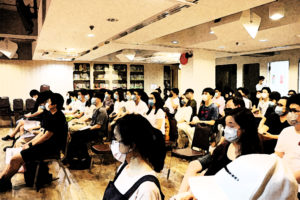 1 Original text in Chinese from(蘇恩佩),《這一代先知在哪裏?》(香港,突破出版社,2013), 頁125.
---